Most Stumpings in Test: A List of Top 10 Wicketkeepers
| | | | | | | |
| --- | --- | --- | --- | --- | --- | --- |
| Player | Span | Matches | Innings | Stumps | Catches | Total dismissals |
| WAS Oldfield (Aus) | 1920-1937 | 54 | 101 | 52 | 78 | 130 |
| TG Evans (ENG) | 1946-1959 | 91 | 175 | 46 | 173 | 219 |
| SMH Kirmani (INDIA) | 1976-1986 | 88 | 151 | 38 | 160 | 198 |
| MS Dhoni (INDIA) | 2005-2014 | 90 | 166 | 38 | 256 | 294 |
| AC Gilchrist (AUS) | 1999-2008 | 96 | 191 | 37 | 379 | 416 |
| HAPW Jayawardene (SL) | 2000-2015 | 58 | 102 | 32 | 124 | 156 |
| IA Healy (AUS) | 1988-1999 | 119 | 224 | 29 | 366 | 395 |
| Wasim Bari (PAK) | 1967-1984 | 81 | 146 | 27 | 201 | 228 |
| RS Kaluwitharana (SL) | 1992-2004 | 49 | 85 | 26 | 93 | 119 |
| JM Blackham (AUS) | 1877-1894 | 35 | 57 | 24 | 35 | 59 |
Most stumpings in Test format
The game of cricket revolves around the tussle between the bat and the ball. Therefore, batters and bowlers have often been deemed a crucial part of the game. However, no one can deny the importance of the role of a wicketkeeper in this sport. Their prominence rises further in the Test format, so does their suffering.   VISIT HERE
As much as it is fun, the Test format can be cruel for wicketkeepers when, at times, they have to bend their backs for days and days behind the wicket. And they have to do that without losing their attention or dropping the energy for one second. This article is dedicated to those wonderful wicketkeepers who stood through the thick and thin and made the most scalps through stumpings.
For those unaware, stumping is a way of dismissing a batsman at the strikers' end. A batter can be stumped by a wicketkeeper when he/she is caught outside the crease in an attempt to play a shot or leave the ball.
You May Also Like: What is Beach Cricket and How Is It Played?
Let's take a look at the top 20 wicketkeepers with most stumpings in Test format:
WAS Oldfield (Australia): 52
Oldfield played 54 Test matches for Australia between 1920 and 1937. During his career, he made 130 dismissals, 52 of them came through stumpings – a record that has not been broken even after 84 years.
TG Evans (England): 46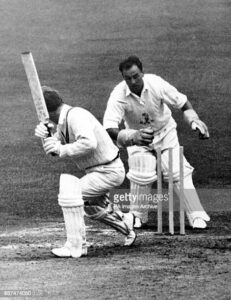 Evans, who played for England, from 1946 to 1959, is still one of England's finest wicketkeepers to date. In his 13-year-long career, he made 219 dismissals in 175 innings of 91 Test matches. 173 of them came in the shape of catching, while 46 were stumpings. He is second on the list of most stumpings in Tests.
SMH Kirmani (India): 38
Syed Mujtaba Hussain Kirmani is branded as the finest wicketkeeper India has produced to date. His contributions both with gloves and the bat were crucial for Team India during their rise in the 1970s and 80s. In his 88-match long career, spanning from 1976 to 1986, Kirmani made 198 scalps. Of them, 38 were stumpings, and 160 were catches.
MS Dhoni (India): 38
"When you compare the icons of the game, you have Sunil Gavaskar, Kapil Dev, Sachin Tendulkar and Dhoni in the same bracket." – Ravi Shastri.
Such was the class of Mahindra Singh Dhoni, the only captain to have all ICC trophies, barring the Test Championship, as it was introduced after his retirement.
You May Also Like: Best Bowling Figures in IPL: Stats and Achievements
Dhoni is undoubtedly one of the best wicketkeepers, and the finest captain the world cricket ever witnessed. During his nine-year-long Test career, from 2005 to 2014, Dhoni played 90 Tests. He accounted for 294 dismissals, and also equalled SMH Kirmani's record of 38 stumpings, while 256 of them were catches.
AC Gilchrist (Australia): 37
Adam Gilchrist was not only a classy top-order batter but also a brilliant wicketkeeper for Australia. He was responsible for 416 dismissals in 191 innings of 96 Tests between 1999 and 2008. Gilchrist stumped 37 batters and took 379 catches in his 9-year-long career.
HAPW Jayawardene (Sri Lanka): 32
Jayawardene represented Sri Lanka in 58 Tests between 2000 and 2015. He was the mainstay behind 156 dismissals in 102 innings. Of them, 124 were catches and 34 stumpings.
IA Healy (Australia): 29
Ian Healy kept wickets for mighty Aussies in 119 Test matches between 1988 and 1999. He took 366 catches in 224 innings and made 29 stumpings.
Wasim Bari (Pakistan): 27
Bari was one of the greatest wicketkeepers Pakistan has ever produced. He was agile behind the wicket and kept spinners and fast bowlers equally well. In his illustrious 17-year-long Test career, Bari played 81 matches made 228 dismissals in 146 innings including 201 catches.  He also had 27 stumpings.
RS Kaluwitharana (Sri Lanka): 26
Kaluwitharana was part of Sri Lanka's World Cup winning squad under Arjuna Rana Tunga. He was not only a brilliant wicketkeeper but also a stylish top-order batter. His innings against Australia at MCG in 1995/96 is still a treat to watch. Behind the wickets, Kalu contributed with 119 dismissals in 49 Test matches between 1992 and 2004. He stands 9th on the list of 26 stumpings.
JM Blackham (Australia): 24
Blackham is the oldest Test player on our list. His era dates back the to late 1800s. During his 17-year-long career between 1877 and 1894, Blackham played 59 Tests for Australia and made 24 stumpings.
Conclusion
WAS Oldfield's record of most Test stumpings still looks unbreakable even after 84 years. Since then, many wicketkeepers have played twice as many Tests, but haven't even come close to his record. Of the current lot, Sri Lanka's Niroshan Dickwella looks the most suitable cricketer to overcome his record. In his 7-year-long career, Dickwella has already made 23 stumpings in 80 innings of 45 Test matches and is most likely to get close to Oldfield's record if not break it during his career.