These Are World's Best ODI Bowling Figures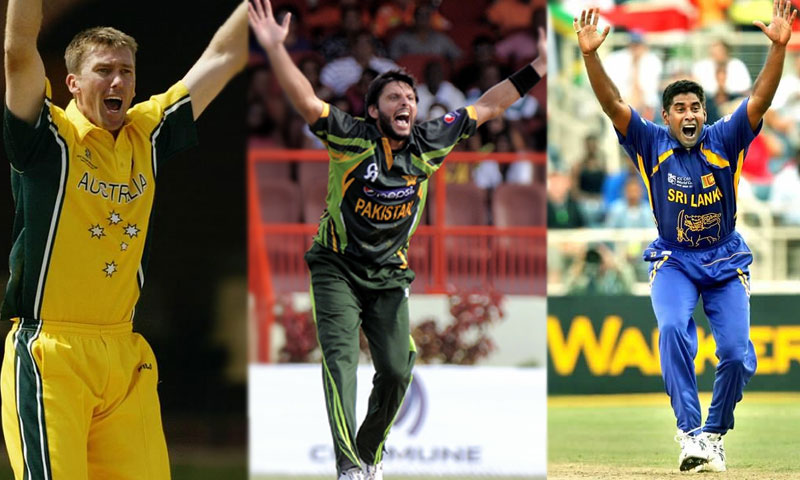 They say batsmen can win you games; bowlers can win you tournaments. Rightly so, because on their day, bowlers can single-handedly take out an entire lineup with their dream spells. This is article is a compilation of the best ODI bowling figures so far.
Let's have a look at the top ten best bowling figures in ODIs.
10.) Aaqib Javed – 7/37
Aqib Javed was one of the finest Pakistani right-arm quicks, probably the second-best after Waqar Younis in the 90s. He has bowled so many countable spells across his career, however, the one against India in Sharjah in 1991 was one for the records books.
Aaqib Javed achieved a feat that has never been a rare occurrence since. He picked up seven wickets with only 37 runs conceded over ten overs – An incredible performance, isn't it?
You May Also Like: When did Virat Kohli's Last Century Come?
9.) Waqar Younis – 7/36
Waqar Younis is without a doubt one of the most talented and legendary bowlers in Pakistan's history. No left-arm bowler to date can match the caliber of Waqar's toe-crushing inswinging yorkers. Waqar was such a bowler, who could destroy oppositions in a single spell on his day. In one of such performances, he clinched seven wickets against England at Leeds back in 2001 and turned the game in Pakistan's favor.
Waqar was unplayable during the match at Headingley, and his figures are among the most impressive in One Day International (ODI) cricket history.
8.) Trent Boult – 7/34
Generation Z cricket fans might not remember Aaqib or Waqar so well, but they will surely recognize Trent Boult as one of the finest left-arm fast bowlers New Zealand has ever produced. Although many would remember him for his brilliant hat-trick against Pakistan in 2018, that was not his BEST PERFORMANCE! His best bowling figures are against the West Indies. The 32-year old pacer went toe to toe with the feeble batting lineup, scalping seven wickets while conceding just 34 runs in his ten overs. New Zealand won by 204 runs on the back of these exploits, and Boult took home the Man Of The Match Award.
You May Also Like: Babar Azam Breaks Another Record of Virat Kohli
7.) Tim Southee – 7/33
Southee is not just any pace bowler. He's one of New Zealand's most delicate and was the nucleus of their 2015 ODI World Cup campaign. He picked up seven wickets in Wellington against England – a memorable spell that helped seal a win for his teammates. The bowler who achieved the best performance in ODI cricket and seventh-best overall is a New Zealander.
6.) Muttiah Muralitharan – 7/30
The Sri Lankan spin magician Muttiah Muralitharan once scalped seven wickets in an innings against India in 2000, during the Coca-Cola Trophy match at Sharjah back when he was still a mystery.
5.) Andy Bichel – 7/20
Andy Bichel, who remained under the shadow of three other fast bowlers, Jason Gillespie, Brett Lee and,  Glenn McGrath, set the 2003 ODI World Cup on fire with his bowling heroics. His seven-wicket haul against England is what made him stand out from all others in that match. It most certainly was not an easy task in the presence of the deadly trio mentioned earlier. Bachel played behind this line of world-class speedsters but still managed to be successful because he knew how vital control can become when you're facing such strong competition for your place in the team.
4.) Rashid Khan – 7/18
Who does not know Rashid Khan? Right? The mystery leg-spinner is in his early 20s and has already made so many records to his name. In one such display of accuracy and ruthlessness, the 23-year old leg spinner bagged another career-best seven wickets for 18 runs against the West Indies in their opening match at Gros Islet in 2017. This makes him the only fourth player to achieve such a feat.
You May Also Like: Who Holds the Record of Fastest Fifty in Test Cricket?
3.) Glenn McGrath – 7/15
Australian bowling great Glenn McGrath was the pinnacle of pace, swing, and control. His 381 wickets in ODIs are proof. In the 2003 World Cup, former Australia fast bowler Glenn McGrath destroyed Namibia's batting lineup with a sheer force that no one had seen before. With the ball, Australia took only 14 overs to finish off their beleaguered opponents for 45. McGrath was in devastating form with 7/15 balls taken, and all but one of them was bowled.
2.) Shahid Afridi – 7/12
Shahid Afridi was a utility player for Pakistan, both with the bat and ball. While he could come in as an offensive weapon, with the bat, he could emulate the same with the bowl. His performance against the West Indies (yet again) in 2013. It was his comeback match after one year of absence and he wanted to make a mark. And so he did, by taking seven wickets for just 12 runs in nine overs. While batting first, he also contributed with a crucial 55-ball 77 to take the Misbah-led Pakistan side to a competitive total of 224. Needless to say that he was picked Player of the Match for his stellar performance.
You May Also Like: Top Five Slowest Test Centuries in History
1.) Chaminda Vaas – 8/19
Sri Lanka's Chaminda Vaas was an absolute legend. He not only holds the record for most wickets in an ODI, but his 8/19 against South Africa on December 8th, 2001, remains unmatched to this day. With his eighth wicket, the first Sri Lankan bowler to take an ODI hat-trick became only one of two bowlers ever, alongside Australian quick Jeff Thomson to achieve this feat. Thompson, with three dismissals in six deliveries, the left-arm pacer brought down three more Zimbabweans in his sixth over.