Top 5 Beliefs That Lead to Problems With Your Emotions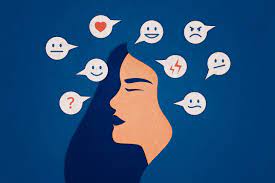 Wrong beliefs about emotions are present in almost everyone. If these beliefs are strong, they can significantly ruin lives and cause emotional disharmony. Changing them for more constructive ones is helpful. It will add harmony and calm inside.
Impairment of Emotions
"So what good will it do me to pay attention to emotions? Why would I want to do that?" 
"Emotions are for 15-year-old girls. And I'm a serious person. For me it's business that matters, not emotion."
These and similar lines can be heard from people who devalue emotions. Many people think emotions are something unimportant, unimportant, something you don't need to pay attention to. 
Within every emotion there is useful information. This information may be very different from that obtained by rational analysis. But it is no less important.
By chronically ignoring and devaluing one's own emotions, one chronically ignores something important within oneself. Ultimately, this leads to difficulties in managing one's emotional state, and can be the cause of depression, psychosomatic disorders.   VISIT HERE
Assessing One's Emotions as Inadequate
"I understand that my resentment is stupid. I shouldn't be offended." 
"It is absolutely inadequate to experience such emotions in the current situation. Normal people don't react that way."
Emotions don't lend themselves to rational arguments. They just arise and that's it. And, yes, they can get in the way, be uncomfortable.
When such an uncomfortable emotion arises, a person often puts a stigma on it: "This is inadequate," "This is stupid," "Normal people don't experience these emotions."
To experience emotions, whatever they may be, is normal and natural. There are no inadequate or wrong emotions. It's important to treat every emotion with respect.
Why is it harmful to brand emotions as "abnormal," "inadequate," or "wrong"? First of all, because in this case, a person begins to fight the "unwanted" emotion. And not only does this not help, it hinders: as a result of the struggle, the emotion either intensifies many times, causing obvious discomfort, or transforms into depression or a psychosomatic symptom.
For example, if a person decides that it is stupid to be offended, this will not destroy the resentment. On the contrary, the resentment will settle in and begin to accumulate.
The fact that a person thinks his fear is inadequate does not make the fear go away. Moreover, a negative attitude toward the fear may intensify it: a person becomes afraid of his or her own fear (it's inadequate!), and it increases the initial fear. A vicious circle is formed.
Perception of one's emotions as inadequate, inappropriate, silly generates a whole bunch of secondary emotional experiences: shame, guilt, anxiety that nothing is working out, disappointment in oneself, anger at oneself, etc. Sometimes it's not so much the initial emotions that cause mental discomfort, but rather the secondary reactions.
So, if you want to make friends with your own emotions, remind yourself more often that you are entitled to any emotion, whatever it may be. Even uncomfortable emotions that interfere with experiences are normal and natural.
If you think that you're the only one who's unique and unique and experiences these kinds of wrong emotions, and everyone else is doing great and has their emotions just fine, you're wrong. It's just that people don't tend to tell the world what they're going through. So you may not know about other people's unpleasant and difficult emotions.
This approach does not mean that you resign and decide to go with the flow. If emotions get in the way, reduce the quality of life, of course you have to deal with them. But the first step to changing your emotional reactions is to accept your emotions for what they are. And only after that can you begin to sort out what the causes of the emotion are, and what you can do to change the reaction.
Without removing any labels and accepting the emotion for what it is, it won't work.
Assessing One's Emotions as Bad, Inconsistent With Standards of Morality and Ethics
"Being angry and feeling aggressive is bad."  "Envy is not a good feeling."
There are emotions that people place taboos on, like some prohibit themselves from betting at 22Bet. In the previous paragraph we talked about labeling one's own experiences. Now we're talking about labels again. This time they are: "These are bad, wrong emotions. It's bad to experience them."
People also often add: "I was taught that from childhood. That's how I was raised."
But, as you can see, the problem is that emotions don't ask their owner how he feels about them, whether he accepts them or considers them unacceptable. They just come, and it can only be accepted as fact.
Sometimes, convinced that an emotion is bad, a person hides it very deeply. So deep that he himself does not even realize that it exists.
For example, there are people who sincerely believe that they are never angry.
Can an emotion just vanish into thin air like that? Of course not. It is bound to manifest itself: most often in the form of chronic anxiety, depression or psychosomatic symptoms.
Only by accepting your own emotions, whatever they may be, can real work on yourself begin. If you want to turn your emotions into friends, remember: there are no good or bad emotions. Emotions are what they are. It's important to treat any of them, whatever they are, with respect and acceptance. This is where the process of change begins.
If I Show My Emotions, Something Terrible Will Happen
Most often such attitudes are found in relation to aggression: "If I show my displeasure, people around me won't understand and will turn away from me." "If I show anger, it will hurt the other person."
Less frequently, these attitudes are not about aggression, but about other emotions: "If I talk about my pain, show the extent of my despair, the other person will get upset and worry."
Such attitudes cause one to suppress the experience within oneself. Such suppression, as you have probably already realized, cannot go away without consequences.
If you find yourself with such an attitude, try to analyze it: where did it come from? What are its roots? As a rule, such attitudes are formed on the basis of experience with people. Most often it is a long experience, in most cases, going back to childhood.
For example, a child could not show anger to his parents, because it is strictly suppressed. Or the mother was always busy with daily chores, worries, and the child was afraid to be a burden, afraid to share their experiences and eventually got used to silence. visit for more information https://playreactoonz.com/
Subsequently, the beliefs formed under the influence of such experiences are transferred to all situations in life.
Any belief that places a strong taboo on the expression of any emotion is destructive. If it was formed a long time ago, it is unlikely to disappear instantly once you realize its futility. Prepare yourself for the long haul.
Pay regular attention to how it affects your daily life, your reactions, and your behavior. Frequently ask yourself the question, "Is my belief really right in this situation?" Gradually loosen up your habitual way of thinking and bring something new to it.
For example, if a person is afraid to offend another by showing his discontent, he may find that different people react differently to discontent. For some, showing discontent to another person is a signal to talk and discuss the problem, to come to some kind of solution. Someone does not want to hear the other person's point of view and shows with all his/her appearance that he/she is offended, and in this case offending is a means of manipulation, a way to influence the other person's actions.
If I Let My Emotions Be, They Will Never End
This belief usually applies to the emotions associated with grief.
The death of a loved one, a divorce, a serious illness–there are very intense feelings about such events, and, of course, such feelings can be frightening.
Often people think that it is best to walk away from such experiences, to switch to something positive. If you allow yourself to feel, the pain will never end.
This is a misconception, and the truth is just the opposite. The human psyche is so constructed that only after the pain has been lived through in all its depth can healing, acceptance of what has happened, come.