Bans Don't Work: It's a Serious and Alarming Situation
A Timely "Victory" for CM Stalin's Two Years in Office Anniversary
On May 7, 2023, Tamil Nadu's Chief Minister Muthuvel Karunanidhi Stalin celebrated his second anniversary in office and some media were quick to congratulate him for his "victory over online rummy" which should serve as proof of the success of his "Dravidian model government".
According to the report, people applaud the Chief Minister's "accomplishment" that was made possible by the "tireless" efforts of retired Justice K. Chandru who had worked together with Stalin to prepare the Bill containing Tamil Nadu's second ban on online gaming.
"When this Bill becomes a law in Tamil Nadu, it will create fear among people who are involved in online gaming," a cybercrime lawyer Kartikeyan is quoted saying.
Then, the very same rather enthusiastic publication goes goes through a list of personal tragedies associated with problem gambling and proceeds to explain how the ban cannot work unless "the Union government should act in accordance with the Bill enacted by the State government," because the State has no effective legislative power over internet resources hosted outside its borders.
Victory against Whom?
When even publications that acclaim the enactment of Tamil Nadu's second ban on online games including rummy and poker expect that the ban will not work, a reasonable question that arises is against whom would CM Stalin's victory be.
The ban apparently is some sort of a political triumph, perhaps against TN Governor R. N. Ravi, as the media publication suggests, who was obliged by the Constitution to sign the Bill after the State Assembly passed it for the second time.
Regarding the acclaimed victory over online rummy, other publications are not that optimistic. A recent opinion piece by SevenJackpots, for example, compares the gaming ban of CM Stalin and Justice Chandru to the American Dry Law which did not stop drinking in the US a century ago, but helped create figures like Al Capone.
Expectations are that while the gaming ban is being challenged in court by the homegrown gaming industry which has already stopped offering its services in the State, Tamil Nadu players would look for alternatives on the black market.
This could have some serious consequences and worsen the already alarming situation with problem gambling in Tamil Nadu when the loan sharks come into play to cater to the fresh influx of black market gaming debts.
According to internal data shared by SevenJackpots, online gambling traffic from Tamil Nadu kept constantly increasing during the last two years: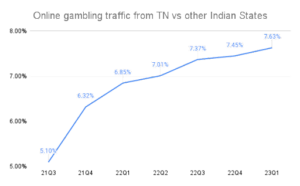 Why Can't TN Be Responsible towards Gambling like the UK?
The authors ask one more reasonable question: If the UK can lower its problem gambling rate to 0.2% through Responsible Gambling measures, why can't Tamil Nadu do the same?
For comparison, India's problem gambling rate is around 7.2%, but TN politicians seemingly have not even begun to consider that there might be other approaches to addressing risks associated with gaming for money over the internet that are far more productive than an outright ban.
Uday Walia, a prominent international and corporate law counsellor from Touchstone Partners, gives his explanation about what lies behind the banning agenda in Tamil Nadu and other Indian States when SevenJackpots Chief Editor Felicia Wijkander asks him about the situation there in one of their latest podcasts.
"I think it's all coming out of female votes, because the perception of gambling is very different if you are a rural woman versus if you're a rural man. For instance, in fishing communities, a lot of fishermen are daily wage earners, and the fear is, just like with alcohol, that they'll spend their earnings on it [gambling] before they reach home," Walia explains.
"It's coming across as the government cares for them [the women], and that this paternalistic approach is something that appeals to them. However, I think the Indian voter is far more sophisticated than that. This might have worked 20, 30 years ago, but the Indian voter has moved on," the lawyer ads.
Time will show if CM Stalin's victory will prove to be a real and lasting one, but it seems it will not get him far even on the political front.